BANKROLL614 – YEAH YEAH/ EXOTIC SMOKE IS OUT INTERNATIONALLY !
Bankroll614 is an Artist and entrepreneur from Columbus Ohio and started taking music serious around the age of 17. Before then it was just rapping on the bus or outside with the homies until they started recording in home studios and put it together ourselves. BankRoll eventually started recording at professional studios and working on his sound. Everything started from dropping songs on SoundCloud and shooting videos locally and coming up with the ideas his-self. In a matter of no time BankRoll started gaining a small buzz around his city alongside his homies I also make music with. "I lost a close friend in 2016 and my brother in 2017 so those are 2 big inspirations in my music and what helps keep me motivated." The music BankRoll makes is melodic trap , music that has a smooth vibe too but also has a message at the same time music for people in the struggle. BankRoll also makes music for people who going through a lot at home & music for people who like too vibe in groups or people that like too kick it alone. "Basically I want my music to be relatable to people all around the world and you can vibe too it no matter what crowd you in."
Early Life
Around the summer of 2018 BankRoll and Quandot linked up and started rocking heavy dropping songs and doing business together. Ever since then BankRoll & QuanDot just been working hard recording hits going back and forth from Ohio and Los Angeles networking , meeting new people gaining fans working on getting DISCOVERED.
YEAH YEAH / EXOTIC SMOKE!
"The song "yeah yeah/exotic smoke" came about while I was in the studio in North Hollywood just free styling while I was high , the hook was a vibe and I just decided to make it into a full song. I went to Atlanta to collab with Jelani Miller for the visual which will be available on his YouTube and the song will be out on all streaming platforms. You can vibe to the song , you can turn up too the song , soon as it comes on it catches your ear and it's smooth all the way to the last second. Crazy visual with lots of edits that really makes the song pop 10x more."
A Legend before becoming one is something Cyffa Leyenda has accomplished for a decade now. Cyffa's been in the game for 11-12 years. At 3 years old the Virginia-Native was adopted into a wealthy strict household. Many rules many expectations No support. Straight out of High School Cyffa Leyenda signed with Alisha "M'Jestie" Brooks (Song Writer of RIHANNA Pon De Replay & more. After a year and half Cyffa was released off the label because M'Jestie felt he was going to be much bigger. As Cyffa grew his expectations did not go along side his parents in result he was kicked out at 18. In 2015 Cyffa opened up for Rah Digga at Shakas Live bringing an enormous amount of energy through-out the crowd. Later on that year Cyffa performed at S.O.B's "Where Legends Are Made" in Manhattan, New York City. This was paid trip, paid luxury hotel, food provided and Backstage access free from the founder of the LiveWire Ent. This was Cyffa's first time in NYC and lived it like a star. 2018 Cyffa had hit single ran 150k streams on soundcloud and not to mention opening up for Megan Thee Stallion. Cyffa drew 100k people on his Instagram the day of the show. Cyffa was able to meet Megan, took a pic and connected with her manager. 2019 Cyffa was a dancer in one of TEK's featured music video. Today Cyffa has released his new single "Fineto" with Dela Wesst "500k on Tik Tok" (Prod. YoungFrenchy808 & Its64boy) Distributed by Empire and has many more celebrities on board with his future mission.
A Shannon Dill that bloomed to be DaphoDILL
Versatile and full of inspiration is the 26-year-old Indie artist, Shannon Dill from Hattiesburg, Mississippi. She was the youngest and the philosophical child at most. That made her choose philosophy as her major. Aside from that, she also took sign language and various sports activities. Writing poems was her way to express her sentiments and seeing them brought out as her self-published books to the world greatly thrilled her. The first book she published was Colors of Blue Shades of Black. 
Above all the things she enjoyed, for Shannon Dill now popularly known as DaphoDILL, music was the greatest. She had always loved music but hated her name. Ironically now, her name became her personality and music was her own life story where she put pieces of herself regardless of the beat or lyrics.
Rooted motivation
It started when her late grandmother left a word that the Shannon she used to hate "is going to do something and going to be something." DaphoDILL's talent was evidently seen as early as 2nd grade when she already got lessons on the guitar and piano along with a drum set. Quite funny for her that she could not read music, but at a very young age, she can already write and produce various types of it.
As she reflected on the people who waste their talents, she realized that she never wanted to waste her own. With her ability as a poet and loving the adverse styles that poetry could be made into and the diversity amongst different readers and writers, she started to put her poems to music.
Needless to say, all successful people have their own fair share of struggles. Another reason that got her into music is witnessing her family struggle at a very young age. She knew deep in her heart that she had to be the one to break that 'generational curse' and produce 'generational wealth'.
"It takes one person to step out and do something different for something to change."
DaphoDILL used that struggle as a great motivation to show what she can do from what she loves.
Thriving passion
DaphoDILL describes her music as fun. Her music is DaphoDILL herself. It is her life in lyrics with a really dope beat. She turned her poetry into lyrics, to sum up, all the feelings raging at her and share every little piece of life's moments, creating dope art because music is indeed an art.
Presently, she had already released a couple of her masterpieces. Those are "All Facts" ft. ZAYTOVEN, "Black Shades" and "Blue Colors", "G.A.B. HIGH" and two more, behind it named "I'm Rolling Jimmy" and "Misplaced a Misses". Interestingly enough she loves sad rap and pop-rock and indie rock type of music with a little mix of hip-hop/rap. So, she took her story and put that rock on these hip-hop/rap type of beats to create these projects.
"Black Shades" and "Blue Colors" related the black lives being taken while unarmed or in their beds sleeping or failing to signal and ending up in a grave. All Facts talked about knowing who you are as a person. As the lyrics go, "Freeze, look in the mirror, do ya dance, shake that ass." It says don't argue with anyone, and don't let someone take you out of your character. "G.A.B. HIGH", has the type of "hey, I know you want me but you can't have me because you need to do better and if you want them you can have them goodbye there's the front door" type of vibe. 
"Misplaced a Misses" is simple. The song was about turning a 'hoe' into a housewife. "I'm Rolling Jimmy" was simply put, "don't get it twisted I am hot I will take ya man!" She will also be releasing a new album called Anomalous.
You can catch up with her music and life at Instagram, Twitter, Spotify, Apple Music, Tiktok, SoundCloud and Audiomack.
Nckv: His Sounds Truly Excite The Senses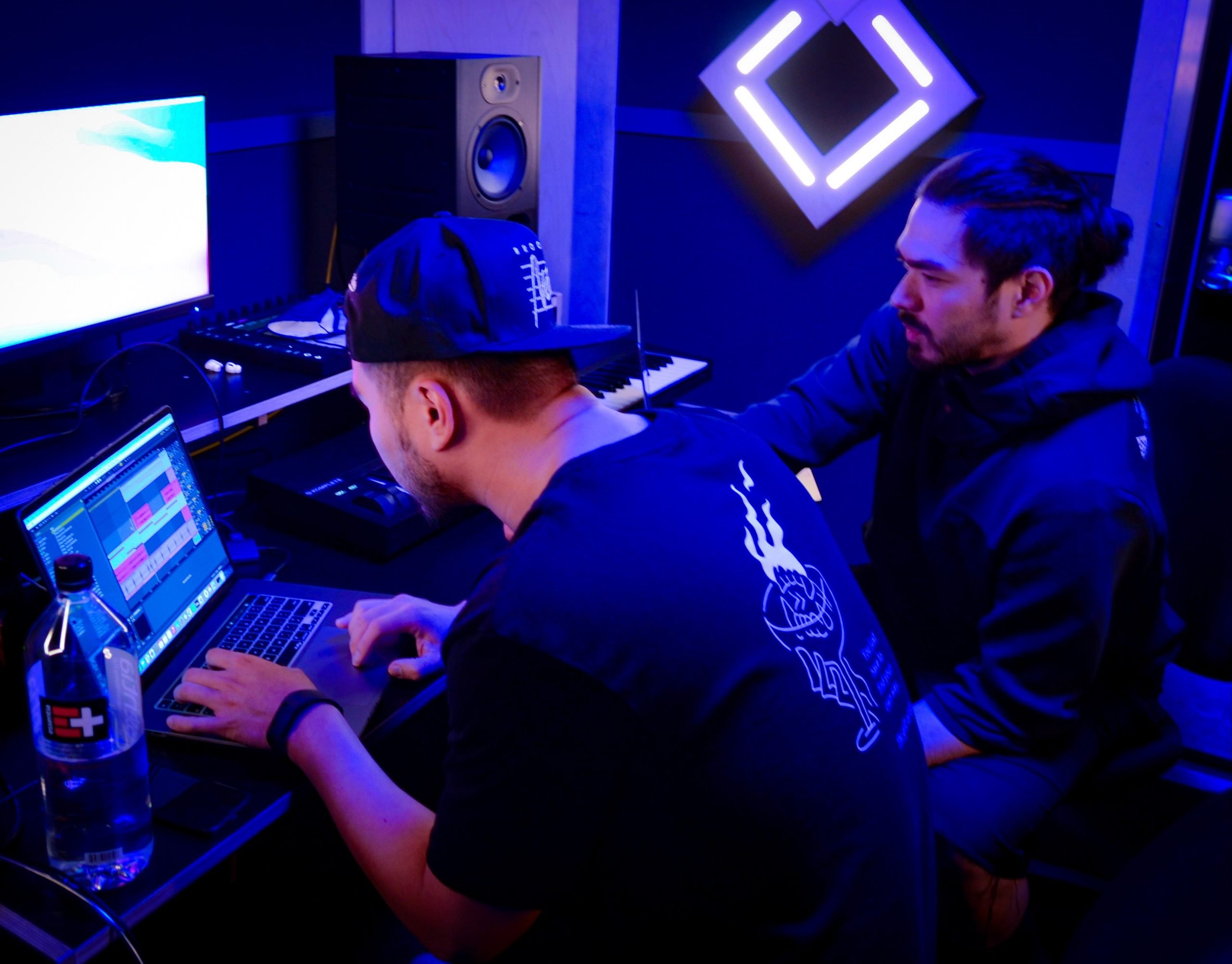 Nicholas "Nckv" von Holtermann is a New York-based Asian-American independent musician whose affinity for innovation transcends the confines of genre. In the time since he humbly began his career in a makeshift living room studio, the singer, rapper, and producer has trained his focus on world-building, combining his ambient, forward-thinking sounds with nostalgic anime-style visuals. Outside the studio, Nckv has cultivated his stage presence by performing at local bars.
Nckv credits pandemic-induced isolation as a catalyst for his creativity. He used the time to hone his craft both in solitude and in a new frontier: a professional recording studio with a slew of gifted musicians from near and far. His ambition to expand his range has attracted the likes of illustrators, animators, and major publications.

The outcome of his flourishing productivity came to fruition with his debut EP "Spectre," a dreamscape of experimental electronic hip-hop sautéed in hints of trap, pop, and soul. Throughout the project, Nckv flaunts a decade's worth of avid musicianship with dynamic layers and soundscape shifts that could blow the minds of casual audiences while also offering depth that only the most trained of ears would appreciate. Above all, though, Nckv celebrates his EP as an authentic self-introduction to a world in need of his light.

In the wake of his release, Nckv is riding the momentum to build up his collective "Async," an all-inclusive congregation of creatives across mediums that play to each other's strengths to achieve team-wide success. He hopes to bolster his networks, public presence, and musical aptitude in pursuit of being the best he can be.
Hello, My name is Gabriel, but most know me as "Bonni3". I am a music artist and entrepreneur. I own my own business called Christian Nicole Promotions. As an entrepreneur I have been featured on publications such as Hufforbes, Medium, The Source, Disrupt, ABC, FOX, Respect Mag and many other reputable platforms.
Bennys Batching: Will Definitely Become A Household Name As He Starts To Trend Within The Music Industry
Benny Chavez, Better known as Bennys Batching is an on the rise recording artist from New Mexico. He is of hispanic ethnicity and takes pride in where he is from. He has a diverse interest in musical genres especially Rap, Hip Hop, Christian Rap and Christian Rock. Bennys Batching is all about making his music known within the rap industry and growing his brand. His debut single "Worldwide Records" makes his story and ambition very clear to whomever listens. Benny started his career this past April just experimenting with some written lyrics. It soon passed as a hobby into a full passion of his. Music is now become the main focus of his life. With each new record he tells a story. His music caters to all listeners. His raw lyrics and catchy vibe appeal to all.
Over some time his writing became better and better. Now he is able to switch up words easily and provide listeners with some amazing wordplay and lyricism. Benny is all about becoming better with his sound. He seeks to make his name known throughout the industry. Currently he is working on a self titled album "Bennys Batching" which is set to drop in the near future. In the meantime check out his latest single "Worldwide Record" now available everywhere.  Be sure to be on the look out for his new releases in the near future.
Check out his latest single here first ! Remember it is also available on all other platforms worldwide !
Hello, My name is Gabriel, but most know me as "Bonni3". I am a music artist and entrepreneur. I own my own business called Christian Nicole Promotions. As an entrepreneur I have been featured on publications such as Hufforbes, Medium, The Source, Disrupt, ABC, FOX, Respect Mag and many other reputable platforms.