He went from sleeping inside a Recording Studio to Working on Justin Bieber's song purpose. Meet Gemini Muziq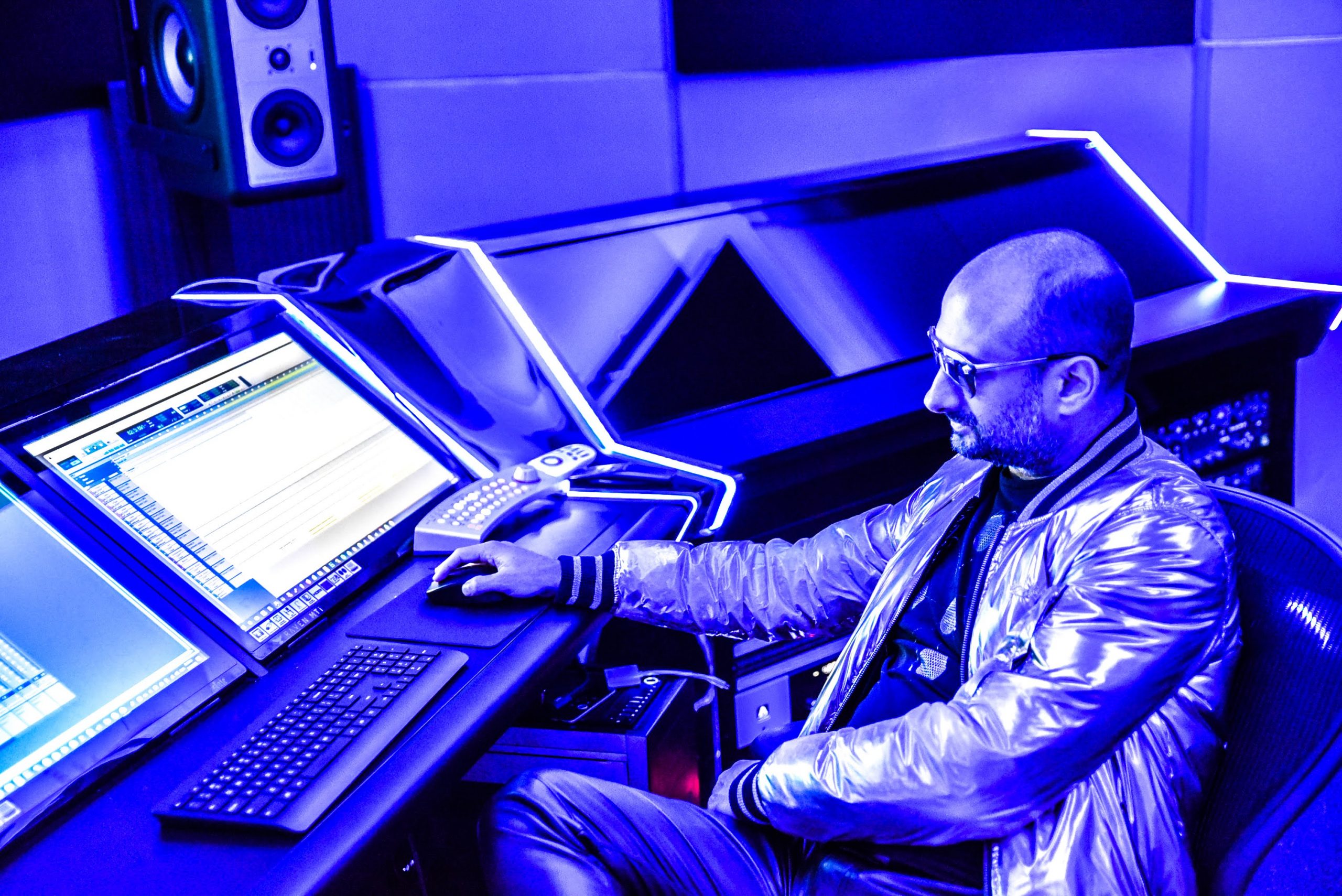 Hagay Mizrahi, also known by his stage name Gemini Muziq is an American-Israeli songwriter, musician and record producer. When Hagay was six-years-old, his father's work relocated his family to Taiwan, where they stayed until he was ten. This early exposure to travel and culture set him up for a fascinating life exploring the globe through his own career. He studied piano as a young child and continued this until he enrolled in the military at age 18. 
Upon being dispatched from the army, Hagay enrolled in the Rimon School of Music, where he studied composition and arrangement. During these years, young Hagay traveled to Kingston, Jamaica, where he was first introduced to life as a music producer. During his time in Jamaica, Hagay worked with Ras Daniel, Bob Marley's percussionist Skully, and Shaggy's drummer Paul Kastic.
He collaborated with Dean Fraser and Yossi Fine and worked with some of Israel's top artists after graduating. These were exciting acts to work with, but there was even more success on the horizon.
A defining moment in Hagay's career
The Israeli producer says the defining moment in his career came while working in Pacifique Studios in North Hollywood. During this time, Hagay recorded with many incredible and influential artists such as Christina Aguilera, Lil Wayne and, most notably to him, producer and songwriter Poo Bear. 
Hagay and Poo Bear worked on several songs together, but the most memorable moment came when the two were working on a piano riff in the studio. Hagay didn't know which artist they were writing for, but he knew it sounded good. That session finished late, and the next day at the studio, Poo Bear told him Justin Bieber loves this song and wanted to use it on his next album. That track ended up being the title song for an album that sold four times platinum, and that evening Hagay knew that he'd been in the right place at the right time.
A producer's process
Hagay believes that properly producing a song takes time, patience and a willingness to take a break. He notes that if he can't trust his ears after three or four hours of work, it's important to go away and come back the next day with a "fresh set of ears." He says that a song should take at least four passes or days before it's ready to go. Everything needs to sit just right in the mix and should sound good on any sound system.
Hagay Mizrahi has overcome many obstacles in his lifetime, from clients falling out with investors and leaving him stranded to having to pay back debts and loans he had taken out in Israel. He believes that a willingness to work hard and invest time into his craft is what got him this far, which certainly shows. Hagay has already worked with Justin Beiber, Mario Barret, Common Kings and Christina Millian. It's exciting to imagine which incredible artists he plans to team up with next.
Anna Stark works as in a PR team named as MyPRSolutions. She is passionate and dedicated to providing her audience with great and helpful content. They always love to listen to her and she mostly does PR for brands and celebrities between their audiences.
Stevie Wonder is a Hit! Kizz Q Draws Attention Locally and Beyond
By: Amber Solomon
Journalist at The MIXX Streetz 105.1
"Kizz Q", formerly known as Quincy Moore released a new single titled "Stevie Wonder " recently and has struck up a lot of buzz on popular social media platforms such as Apple Music Instagram, Spotify, Tidal etc.
Moore was inspired to write this new track from overcoming tough times he would encounter. While developing as an artist, Moore has been exploring his identity and growing as an individual as well. He created the track through perseverance of unsupportive peers which helped the emergence of his creative genius.
"I could hear the keys inside of my head just playing. Anytime I was going through a tough time, I kept hearing this melody and I was wondering why. From then on, every time I would feel down or discouraged I would hear it again which encouraged me to keep moving".
Focus is one of Moore's number one facets of his music when bringing his vision to life for new tracks. He is even meticulous on who is present when he is recording which allows his creativity to run wild.
"When I'm in the studio I don't like 30-40 people trying to come around and party. I like to be surrounded by my producer, my cameraman and my manager. That's all. I like to get straight forward and to the point", Moore stressed.
His producers are A.Swain and Lipe of NWP ,(Network Productions) , CEOs Of Network Entertainment Records distributed through Sony the Orchard.
"We see life itself as a flow. Anything we do has to flow. You have to be comfortable , laugh and remember to have fun. When you are comfortable you make good music and if you're not comfortable, it takes away from your creativity and causes you to be distracted".
They encourage Moore to always have full creative expression and voice.
Kizz Q summarized the track as being a motivator to move past issues hence, the reference to "Stevie Wonder" which means not being able to see them.
"Before I made the song, the message that came to mind was when things in life became issues I would think of them as being minor annoyances. I would see past them. That's where the line 'If its minor I don't see it, I play them keys like Stevie Wonder' came from. I choose to keep it moving forward and I keep elevating despite it all".
Moore remains hungry for knowledge from his producers and inspiring artists before him to perfect his craft.
Along with his new single, Moore is picking up wind on his previous single "Pop Star" which was referred to as a feel-good party anthem. Pop Star has a music video on YouTube that has approximately 10,000 views and has been featured in national magazine sites and media platforms, his single "Grindin"which has 21,000 views & 50,000 streams on Spotify and was published on YouTube just a year ago.
Moore is a man of many talents. He is a promoter and Radio personality for Saint Louis' the Streetz 105.1 owned by Celebrity Dj Trumaine Barrett Epps "Dj Tab" He co -creates with DJ Flightt during their radio show to complete production. Their show is called "THEMIXX"sponsored by The Hype Magazine and Yahoo News, and Succees Over Everything Clothing Brand. While creating his own legacy and pursuing his purpose he also pairs with local artists, entrepreneurs and business owners to both promote and interview them on the station.
Moore is excited to keep producing singles, attracting more listening streams and growing as an up and coming hip hop artist. He is also preparing to release his First Debut Album called "Headlines" summer 2021.
Moore's single "Stevie Wonder " can be streamed on all music platforms. Listeners may tune into his station at www. Streetz105.1 by downloading the Streetz 105.1 mobile app.
Quincy Moore's Instagram :
DJ Flightt Instagram:
A.Swain Instagram:
Lipes Instagram:
THE MIXX Instagram:
Streetz105.1 Instagram:
Anna Stark works as in a PR team named as MyPRSolutions. She is passionate and dedicated to providing her audience with great and helpful content. They always love to listen to her and she mostly does PR for brands and celebrities between their audiences.
Diamond Blacc: An Amazing Role Model/Entertainer Who Is Teaching Others How To Own Who They Are
Kelvin Bloodsaw better known by his stage name Diamond Blacc is an on the rise entertainer from California. He learned about the entertainment industry watching his father. His father owned a record label at the time and was in the process of building it from the ground up. After his parents split up him and his mother both relocated to Philadelphia, PA. While being raised by his mother he learned the important role of education and how it could change his life for the better. Diamond Blacc was awarded a scholarship to attend private school based on his educational merits. There he excelled.
Although Diamond Blacc reached college he unfortunately had to withdraw from Fordham University due to personal issues that made attending the school rather impossible at the time. This was a devastating moment for him as school has always played a pivotal role throughout his upbringing. School helped him hide underlying traumas and painful issues he was dealing with internally. He would eventually hit a dark moment in his life while dealing with his self identity. It was hard for him, but with music, God, dedication and faith he saw it through and is ready to tell his story.
Diamond Blacc began his musical career at one of his lowest points in life. He was ending a toxic relationship that nearly broke him. A slow depression was starting to invade his mind and body. While being back at home in his room after his breakup he started to create instead of feeding his depression. He started writing and composing songs. In January of 2021 he released his first ever mixtape "Shannon's Son". He also shot 3 music videos to accompany his project. His project was made from passion and dedication. Diamond Blacc was also featured in several news publications for Temple University, blogs and many other reputable outlets for his amazing work.
Currently Diamond is working on a new single called "Out" which drops June 18th. This song talks about the joy of coming out! It is purely about the power of yourself and owning who you are. Diamond Blacc is proud of who has became and his music helps others who are struggling with that or who are completely owning it! Make sure you tune into his latest mixtape and stay tuned for his newest single !
Hello, My name is Gabriel, but most know me as "Bonni3". I am a music artist and entrepreneur. I own my own business called Christian Nicole Promotions. As an entrepreneur I have been featured on publications such as Hufforbes, Medium, The Source, Disrupt, ABC, FOX, Respect Mag and many other reputable platforms.
American sensation in the Rapping world named Soulja South
America has seen many rappers who are not very renowned but have started to Rapping from the scratch. Most of the rappers have started Rapping after the college dropout because they thought that education is not the requirement they have but they should follow the interest they have even if they are younger. This thing can be very true if we are going to talk about Soulja South. This individual is an independent music artist who has not only shown an interest in the music industry but also has his own business in the fragrance industry.
At a very young age, he started to show interest in the music industry but he didn't have the opportunity he deserves. Living in Fort Myers Florida He is the owner of the famous cologne brand Named "cologne money".
Soulja South Is an individual with high energy and a positive attitude. He is a very interested person in telling others or motivating others against the challenges the people are facing. Because of his interest in the music industry, he has done many of the activities which make them stand out in the rapping world. This is the reason throughout his career he has worked with many big projects like Steve Woodz, FazeTheBeat, HomeTownHustle And Royalty & Respect Management & Has A Song On Trick Daddy Mixtape.
Many individuals in the world are willing to listen to this music artist because this individual is not only the source of motivation for them but also because he has struggled being the nobody in the music industry. Easily, you can say that he is the inspiration for many people who want to become The Rapper even if they don't have any opportunity in the path.
When asked, "Do you know why you have an interest in the multiple entrepreneur fields? Then he said that one day I was looking at the TV and while watching MTV I saw Beyoncé In the commercial who was showing the new perfume. From that day till now, I have an interest in making a brand that can be as popular as I have seen in the world. In 2012 he came up with the name cologne money as the brand name. He said that I have the interest to make the cologne brand which can be good for both genders and you will feel like you came out of the shower and visited the world with the beauty and Freshness on your face.
All these things are possible if you are going to wear the cologne which can be not only very hard for the smell and at the same time very long-lasting.
If there are people who want to know more about him or want to know that what type of songs he has released then they can connect with him on his official Instagram account where he will be able to convey your queries and at the same time you will be able to know that how passionate he is and inspiring for the people.  His song Water Thicker Than Blood dropping on Trina Rockstarr Mixtape June 16, 2021. Trina Rockstarr is also a big name he works with.
Anna Stark works as in a PR team named as MyPRSolutions. She is passionate and dedicated to providing her audience with great and helpful content. They always love to listen to her and she mostly does PR for brands and celebrities between their audiences.