How Versatility Became the Key to Success for Western Artist Benzo
How Versatility Became the Key to Success for Western Artist Benzo
Benjamin Becerra, professionally known as Fade Dresto and Benzo, is a musician from El Paso, Texas. He has been making music for six years now and currently has two albums out with a third one in the works.
His status as a musician was solidified when he released his first album, Self Nurtured, back in 2019 through an indie label called Sound Alive Records.
"The record was a local success due to the versatility that it carried within the project. Ever since I have been performing in different states, a little tour I would say," Benzo shared.
From Playing Around to Game On
Benzo's career in music started in 2006 when he was just messing around with his rhymes and tunes.
"I didn't know anything about counting bars or any music fundamentals. I wasn't actually recording anything serious. I was just doing it for fun but once I found out I could put words together it was game on," he said.
Now with his game face on, Benzo has been working his way to creating more albums that have something unique in store for its listeners.
"I've learned how to mix and master my own music, and how to value what I already have rather than wishing it was better," Benzo added.
New Opportunities
Just last August, Benzo moved to Los Angeles after he got a call from a guy named Jay who conducts an annual event called Indie Power Summit.
"I ended up performing my album and a couple days later I decided that I was going to stay in L.A. due to large amounts of influencers… On November 6, 2020, I released my most recent album, Faded Benzo, which a lot of people love because it had a different sense of style and the music is relatable," Benzo said.
Through all his hard work, Benzo can be perceived as that one kid who refuses to quit and not accept failure as an ending. He is one of the many that take life seriously and is dedicated to make music as best as he can.
Today, he owns two private professional recording studios in El Paso and Los Angeles. He is also currently working on new visuals and a brand new album which will be announced later this year.
"My goal for this year is to land a great partnership with Universal Music Group, work with veterans in the rap game and just keep expanding within the world of music," he shared.
For more information, visit Benzo's website at www.fadedresto.com., or check out his Facebook, Instagram, and Twitter accounts.
US Army combat veteran and journalist Luis Jorge Rios is the Founder of REDx he specializes in personal branding. He is a contributor to Entrepreneur magazine and TEDx host. Luis was mentored by Mark Cuban, his eye for business and potential growth has been trained at a billionaire level.
He went from sleeping inside a Recording Studio to Working on Justin Bieber's song purpose. Meet Gemini Muziq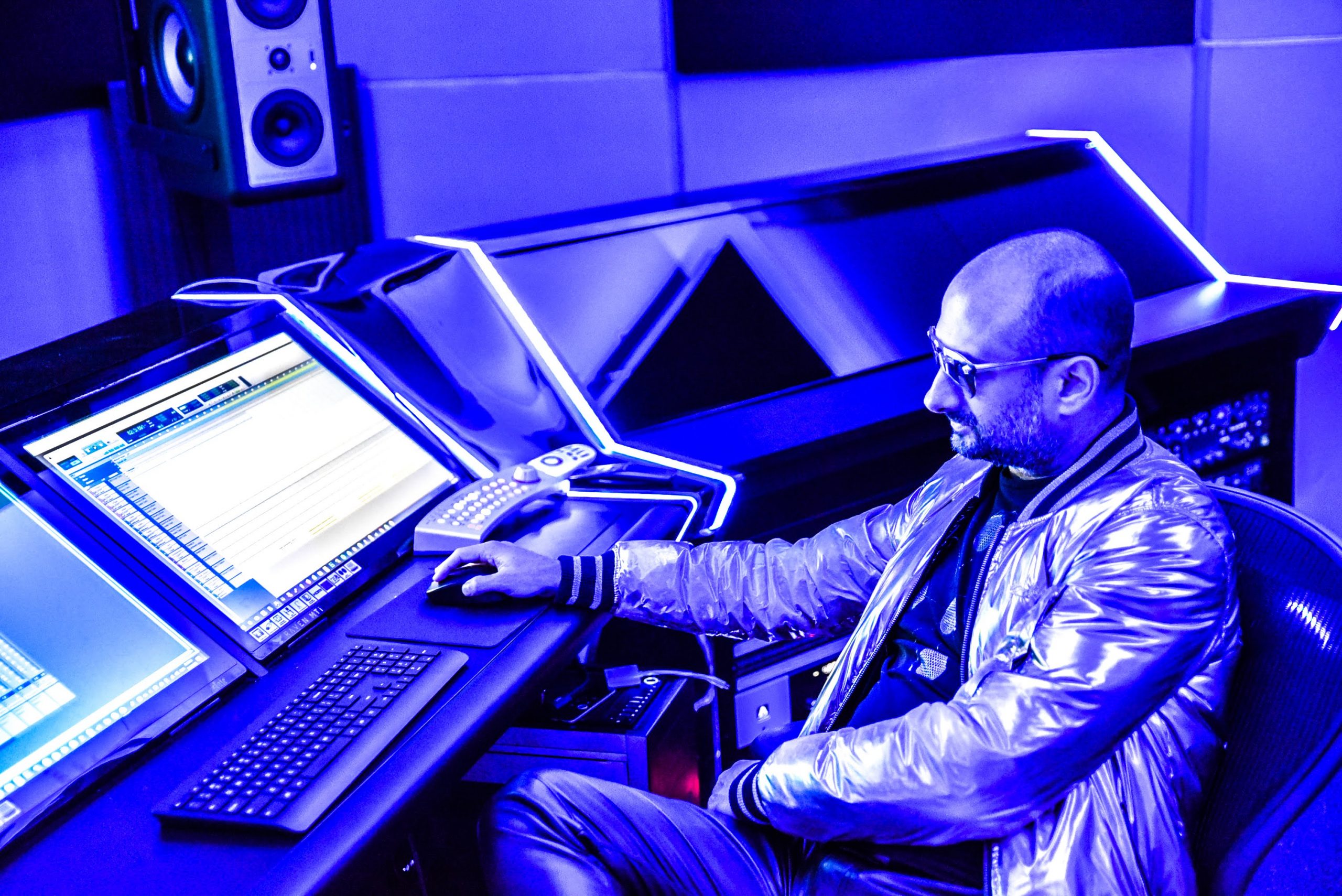 Hagay Mizrahi, also known by his stage name Gemini Muziq is an American-Israeli songwriter, musician and record producer. When Hagay was six-years-old, his father's work relocated his family to Taiwan, where they stayed until he was ten. This early exposure to travel and culture set him up for a fascinating life exploring the globe through his own career. He studied piano as a young child and continued this until he enrolled in the military at age 18. 
Upon being dispatched from the army, Hagay enrolled in the Rimon School of Music, where he studied composition and arrangement. During these years, young Hagay traveled to Kingston, Jamaica, where he was first introduced to life as a music producer. During his time in Jamaica, Hagay worked with Ras Daniel, Bob Marley's percussionist Skully, and Shaggy's drummer Paul Kastic.
He collaborated with Dean Fraser and Yossi Fine and worked with some of Israel's top artists after graduating. These were exciting acts to work with, but there was even more success on the horizon.
A defining moment in Hagay's career
The Israeli producer says the defining moment in his career came while working in Pacifique Studios in North Hollywood. During this time, Hagay recorded with many incredible and influential artists such as Christina Aguilera, Lil Wayne and, most notably to him, producer and songwriter Poo Bear. 
Hagay and Poo Bear worked on several songs together, but the most memorable moment came when the two were working on a piano riff in the studio. Hagay didn't know which artist they were writing for, but he knew it sounded good. That session finished late, and the next day at the studio, Poo Bear told him Justin Bieber loves this song and wanted to use it on his next album. That track ended up being the title song for an album that sold four times platinum, and that evening Hagay knew that he'd been in the right place at the right time.
A producer's process
Hagay believes that properly producing a song takes time, patience and a willingness to take a break. He notes that if he can't trust his ears after three or four hours of work, it's important to go away and come back the next day with a "fresh set of ears." He says that a song should take at least four passes or days before it's ready to go. Everything needs to sit just right in the mix and should sound good on any sound system.
Hagay Mizrahi has overcome many obstacles in his lifetime, from clients falling out with investors and leaving him stranded to having to pay back debts and loans he had taken out in Israel. He believes that a willingness to work hard and invest time into his craft is what got him this far, which certainly shows. Hagay has already worked with Justin Beiber, Mario Barret, Common Kings and Christina Millian. It's exciting to imagine which incredible artists he plans to team up with next.
Anna Stark works as in a PR team named as MyPRSolutions. She is passionate and dedicated to providing her audience with great and helpful content. They always love to listen to her and she mostly does PR for brands and celebrities between their audiences.
After Founding CoCalm, MC David J Is Going To Take It At The Heights Of Success
Most of the music lovers think that making space in the music industry is simple and easy for everyone. However, the fact is opposite for all the people since the music industry only welcomes those who are not just music lovers but talented too. They must be dedicated and determined to work on different niches at a time. We all know that there are different forms of music as well as rap and hip hop are the two famous forms.
Similarly, music creators work on these two forms because of the popularity and fun. Yes, majority of the people love to hear these tracks. In the below lines, we are talking about Mc David J, who has made his space in the music world in these two forms. Get more songs of the star on YouTube.
About Mc David J
Do you know that Mc David J is a founder of CoCalm Entertainment? Not only this, the upcoming Hip Hop star is going to set out to master all areas of music. David is a rapper too and he is working on the wonderful hip-hop tunes. Learn more about your favorite star in the below lines. The famous Hip Hop artist resides in Georgia, Atlanta who is using different musical instruments such as drum machine, drums, guitar, piano and trumpet. In the music world, he is a famous producer and he loves to create original music. David creates lo-fi and likes to put his fans at convenience.
David started music in the age of 9 and in this age of 25 years, he is a famous music creator who is working on hip hop and rap forms of music. Moreover, he has founded CoCalm Entertainment, his music company where he is trying it to take at the heights of success. Therefore, he is struggling hard these days. Learn more about your favorite star on Deezer.
About his life
His grandparents and father play guitar and were musicians. David has taken love for music and new tones creation in heritance. He started music with guitar and there he used to play different music software like pro tools, garage band, Reason as well as music instruments like drums, piano, trumpet and others.
People love to enjoy his music because it comes in low-fi but it is full of energy and enthusiasm. As per David, he wants that people can understand the theme of his music. You can get all his songs and tracks on Spotify.
Upcoming projects
David is going to release on March 5th, 2021, an incredible album named Go Mad. You can get this album on Spotify and Apple Music for Pre-save. As a music producer, he has released high-quality music and tones. Moreover, he has developed CoCalm that is an app that displays the different talents like photographer, models, artists and others. This is the app that is easily available on both android and apple and it is famous with the name of the CoCalm Entertainment. Due to the massive bank of followers, he is available on Instagram.
Anna Stark works as in a PR team named as MyPRSolutions. She is passionate and dedicated to providing her audience with great and helpful content. They always love to listen to her and she mostly does PR for brands and celebrities between their audiences.
Rising HipHop/R&B Artist Kris Flair Just Might Be The Next Big Thing
Growing Up
Upcoming HipHop/R&B Artist Kris Flair has been making a name for himself in the midwest since 2018. Born & Raised in Dayton, Ohio Flair started making music young at the age of 15. He began performing at 17 years old selling out his own shows locally. He has used music as a way to escape from real life while having to grow up & take care of his chronically ill mother while having no contact with his father who battles an alcohol addiction. He found the perfect way to deal with his problems, something he will never regret. Flair has strived very much over the years & perfected his craft as a artist. As his fanbase continues to grow his music is very much anticipated.
New Single Out Now
On January 21, 2021, Flair Released his brand new single entitled "V12". This song had very deep meanings including his real life struggles with depression, and also revealing some of the sacrifices he had to take to get where he is today. Whether it is looking back on lost time with family members, or even his families struggles to be able to come up with the rent, its all included in this song. This Release highlighted a whole new sound for Flair with it being mixed by Popular Artist "A Boogie Wit Da Hoodie's" Engineer "MixedByRican". With his ability to be so versatile with his music it is no doubt that Flair is well within reach of becoming one of the biggest breakout stars of 2021. Check Out His New Single Below.