How Yoko Ono Became a Well-Renowned Multimedia Artist Through The Years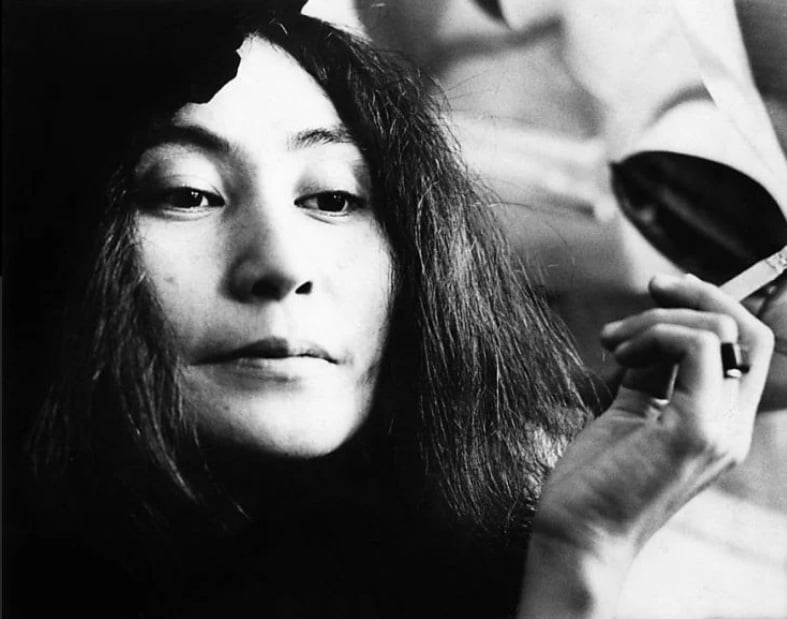 Many are familiar with Yoko Ono but this is because of her association with her late husband, the famous Beatle John Lennon. But unknown to many, Yoko is a great artist who has made profound contributions in the name of art.
Born in Tokyo, Japan in 1933, Yoko has been a prominent name in the international art scene since she started in the 1960s. Some of her works span several mediums such as visual art, performance, filmmaking, and experimental music.
Yoko moved to New York with her family in the mid-1950s and enrolled in Sarah Lawrence College. By the next decade, she lived in New York, Tokyo, and Londo to influence the international development of conceptual art and Fluxus, an international, interdisciplinary community of artists, composers, designers, and poets.
Some Of Her Early Works
During her early years as an artist, Yoko's works were often based on instructions that are communicated to the public in either verbal or written form. This is because her art was something more than the public can look at, rather it invited them to become a part of the artistic process as well as provoke their thoughts and emotions about what art really is.
Take, for instance, her groundbreaking book Grapefruit. It was there Yoko combined more than 150 of her instructions that range from feasible to nearly impossible to stimulate the reader's imagination and complete the piece depending on their perception.
But Yoko's thought-provoking art isn't limited to printed mediums as she also personally engages in performance art and other approaches to get her message of peace and equality across.
In 1964, she stunned audiences with her Cut Piece performance where she sat motionlessly in Carnegie Hall, New York. She invited people to cut away portions of her clothing until she was left in her underwear and surrounded by rags. This act was considered an early piece of feminist art that questioned interpersonal relationships and destruction.
Promoting Peace Through Art
Over the years, Yoko continues to create art that challenges the norms of society and questions the motives of politics. Her Wish Tree sculptural project is a perfect example of how she fuses her pacifist views with audience participation.
And since Yoko isn't one to confine her work to galleries, her Wish Tree project spans different countries and invites visitors to write their wishes on a small piece of paper which will then be hung on a living tree. 
Nowadays, the Japanese multimedia artist has embraced social media to communicate her art and messages to an even wider audience. She also continues to perform with Plastic Ono Band to promote world peace through her ongoing WAR IS OVER! campaign.
US Army combat veteran and journalist Luis Jorge Rios is the Founder of REDx he specializes in personal branding. He is a contributor to Entrepreneur magazine and TEDx host. Luis was mentored by Mark Cuban, his eye for business and potential growth has been trained at a billionaire level.
Three Factors That Helped Manuel Godoy Further His Career As A Comic Book Artist
Hailing from New York City, 36-year-old Manuel Godoy is a comic book artist behind the series "Black Sands: The Seven Kingdoms." He began writing the series after he graduated college with a bachelor's degree in Economics.
Manuel originally wanted to be a video game developer but he did not have the means to finish his first project. He later pivoted to a more sustainable career in comics. Little did he know it would turn out so well.
Several factors helped in the success of Manuel's Black Sands series. Here are three of them.
Marketing An Unconventional Genre
Presently, Manuel is regarded as the only black comic publisher who's earning millions while telling stories that most people would find "unmarketable."
The Black Sands series exclusively focuses on Black history, before slavery became rampant, which is an extremely overlooked genre. This allowed Manuel and his team to corner the market.
"Black Sands: The Seven Kingdoms" features vibrant art that depicts Black characters and culture. Manuel's work caters to Black parents and students since they can relate the most to the content of his comics.
"Seeing black parents and their kids so happy about heroes that not only look like them but also connect culturally to a greater legacy," he said.
Practicing Professionalism
Before Manuel became a comic book artist, he was in the United States Army for six years. His time in service imparted him with relevant values that he can use in his new career.
"I believe my military experience has allowed me to make a sound business with strategic partnerships that allow us to scale. Most CEOs want absolute control, but that limits the ability of the whole," he said.
And even though he's a comic book artist, Manuel puts professionalism above creativity since he's the type of person to focus on the next corporate milestone.
The Black Sands team's present goal is to reach an annual income of $10 million while finishing up the first season of Black Sands, the anime. Once that is done, licensing could go beyond 100 million.
Investing In The Right Things
For years, the core members in Manuel's team were only four who helped create the amazing visuals of the Black Sands Universe. But as the comic book series gained traction, they started focusing on controlling costs, acquiring customers at reasonable rates, and hiring great talent at affordable prices.
Now, they have dozens of people offering their services to develop Manuel's comic book. 
For more information on Manuel Godoy and his works, visit his Instagram and TikTok accounts.
Why Pursuing A Higher Education Allowed Visual Designer Oluwatosin To Excel In Her Craft
Many people believe in the knowledge and skills that come from pursuing higher education. This is because learning about them and their technicalities allows individuals to become more acquainted with their passion and eventually foster their creativity into their work.
This is one reason why visual designer Oluwatosin Odugbemi (Tosin) decided to embark on an educational journey to develop her love for design into something that she can share with others.
Having A Supportive Community
Tosin grew up in a snowy and meager suburb just outside of Edmonton, Alberta. She lived in the countryside and attended quaint local schools. Her love for art, music, and dance was apparent throughout her childhood. During her teens, she wanted to incorporate creativity into her future career.
"My love for beautiful visuals was fostered through young formative years by teachers, my family, and others older than me who identified a gift for design in me and emboldened me to pursue and develop my talents," she shared.
With this encouragement, by the age of 17, Tosin moved from her tiny town to Vancouver where she started her post-secondary education at the University of British Columbia and focused on sculpting and temporary art.
After completing two years of these visual arts studies, she entered the School of Architecture and Landscape Architecture within the university. She later moved into her Masters of Architecture degree at the Harvard Graduate School of Design.
How It Helped Her in Her Career
"This more technical design education has given me the capacity to move into interior styling and storefront design. My artistic training has empowered me with the theories of aesthetics that allow me to excel in graphic design and branding," Tosin said.
Over the years, she began to design for clients and created a business around it in the summer of 2020, when her design studio called Atelier Oluwatosin launched.
During her first year of business, she managed to design over 20 brands as well as five spaces including one storefront, one countryside resort, and three residential interiors.
"As a creative, I use my gifting to tell a story visually and beautifully as a device to communicate robust messages with love. I believe the intention behind my work can be felt by an audience, which has set me apart from others in the industry," the visual designer said.
She added that she strives for all her work to be sophisticated, timeless, and bespoke.
Learn more about Tosin and her design studio on her website, www.oluwatosin.net.
US Army combat veteran and journalist Luis Jorge Rios is the Founder of REDx he specializes in personal branding. He is a contributor to Entrepreneur magazine and TEDx host. Luis was mentored by Mark Cuban, his eye for business and potential growth has been trained at a billionaire level.
"BOLLI BLAS: DREAMING WITH HER EYES WIDE OPEN"
BOLLI BLAS ~ "My work conveys abstract ideas in a simple manner. I am interested in emotional impact and want to put across my values and beliefs and at the same time force others to question their own."
"I work mainly with large oil on canvas pieces. Many of my paintings feature wide-eyed characters which I call Bollis. They look right back at the viewer, representing eyes as windows of the soul, holding a mirror to modern society. The philosophical concepts, combined with simple, cheerful representation create a very personal universe searching emotional reaction in the viewer."
"Through my art, I want to change the world by representing my vision of utopia, a place where ethnicity and backgrounds don't matter, where we are all the same, equal, where there is no prejudice, hatred or war. I paint people of all colours and sexual orientations. There are no rules, just Bollis dreaming with their eyes wide open."
"My art is inspired by the street art, crafts and small galleries I saw on my backpacking travels everywhere from Guatemala to Peru and Zambia as much as the established artists in MOMA in New York."
Bollis have been exhibited in NYC, London and Milan and will be displayed in upcoming exhibitions in NYC, Nice, Paris and Madrid. Make sure to stay in tuned with her creative success.
Solo Exhibitions:
MADRID, 'Bolli on a Wally' Exhibition, Wilko Gallery Madrid, 2nd – 30th June 2021
Art Fairs & Group Exhibitions:
NEW YORK, Pier 94, 2021 Solo Art Expo, 22nd – 25th April 2021
NICE, 2021 Art Fair, 9th April – 11th April 2021
PARIS, International Contemporary Art Fair Art 3F Paris, 29th – 31st January 2021
NEW YORK, Manhattan, Van Der Plas Gallery, 'Vor Kunst' Exhibition, 23rd November – 2nd December 2020
MILAN, M.A.D.S. Gallery Milano, International Contemporary Art Exhibition 'Mater' 13th – 27th November 2020
NEW YORK, Manhattan, Van Der Plas Gallery, 'Quo Vadis' Exhibition, 28th September – 7th October 2020
LONDON, Hackney, 'Art is why I wake up in the morning' Exhibition, 14th October – 24th October 2020
LONDON, South Bank, 'Art at the Theatre' Exhibition, 10th September – 16th September 2020
Virtual Exhibitions:
LONDON, Scattered Gallery 'Fake Space' Exhibition, 4th November – 4th December 2020
FLORENCE, Internation Association of Visual Artists IAVA 'Aid' Exhibition, 1st October – 30th October 2020
LONDON, Scattered Gallery 'Art at the Theatre' Exhibition, 13th September – 12th October 2020
TV Interviews:
TORONTO, Darriel Roy Show, 28th November 2020
Publications:
MADRID, Guto Ajayu Ediciones 2021 International book of contemporary art
TURIN, Corriere dell'arte 'Lights for the future', October 2020
Written by Cyffa Leyenda
A Legend before becoming one is something Cyffa Leyenda has accomplished for a decade now. Cyffa's been in the game for 11-12 years. At 3 years old the Virginia-Native was adopted into a wealthy strict household. Many rules many expectations No support. Straight out of High School Cyffa Leyenda signed with Alisha "M'Jestie" Brooks (Song Writer of RIHANNA Pon De Replay & more. After a year and half Cyffa was released off the label because M'Jestie felt he was going to be much bigger. As Cyffa grew his expectations did not go along side his parents in result he was kicked out at 18. In 2015 Cyffa opened up for Rah Digga at Shakas Live bringing an enormous amount of energy through-out the crowd. Later on that year Cyffa performed at S.O.B's "Where Legends Are Made" in Manhattan, New York City. This was paid trip, paid luxury hotel, food provided and Backstage access free from the founder of the LiveWire Ent. This was Cyffa's first time in NYC and lived it like a star. 2018 Cyffa had hit single ran 150k streams on soundcloud and not to mention opening up for Megan Thee Stallion. Cyffa drew 100k people on his Instagram the day of the show. Cyffa was able to meet Megan, took a pic and connected with her manager. 2019 Cyffa was a dancer in one of TEK's featured music video. Today Cyffa has released his new single "Fineto" with Dela Wesst "500k on Tik Tok" (Prod. YoungFrenchy808 & Its64boy) Distributed by Empire and has many more celebrities on board with his future mission.