NEW YORK's VERY OWN DJ KIDWRIGHT
Troy "Dj Kid Wright" Wright jr born and raised in Poughkeepsie, New York. Last stop on the Metro North from Grand Central Station. Born in the early 90's , 1991 to be exact! Which lead to multiple music influences growing up, from artists like Jay-Z, Nas and 50 cent. Music ran in his family, recording in an professional recording studio at the age of 12 is when then DJ gained the love for music. Since he could remember music was a major part of DJ's life despite the circumstances. "There's a song that I could even relate to or identify the feeling I had at the time that song or record was in the radio" DJ said. The connection with music grew and grew leading him to start to write his own music. With his uncle Kenny Palmer (Motv Man) who had been writing the other siblings raps at the time pressed him to write my own raps. With music bringing family together they all collectively recorded music even the youth. With his uncle writing his others siblings music who shared the same age or around the same age, the sound distinctly sounded different. You could tell the difference between the individual behind the pen at the time. Year after year that difference became unrecognizable with the steady practice of writing music. Growing up there had been another focus and another love of DJ's life, football! DJ started playing football at the age of 8, participating in the flag league. That's were it began, the passion remained for music as the current love for the sport grew also. After years of commitment in both music and football created a sign of relief, thinking to his-self that it would be possible to play football and create music has always been a question for him. Looking at It in retrospect DJ was only trying to fill the void of my father being incarcerated. "Growing up in a one parent household changed me, changed in ways that only now I would see to be beneficial despite the circumstances."
"My father served a 27 year prison sentence for murder, which is nearly impossible to successfully do in our day in time. Which is sadly and achievement depending on how you look at it. Overcoming deadly streets of Poughkeepsie was a life time achievement alone. Having 3 Conrad's who once shared the same block with me daily for more than 5 years passed away either from street violence or police brutality." After realizing death was hitting close to home it was time for a change, time for a new location. Which lead to DJ meeting Cyffa Leyenda in Virginia Beach. It was a simple connect from engineer VirgillRay linking the two. DJ wanted to link with Cyffa and he was cool with it. From doing the song RICH to now they've been cool friends chillin at the oceanfront to the studio. DJ has an album coming out soon called Cuffy Combs and will be grinding hard all 2021 make sure y'all TAP IN this is talent you don't want to miss!
A Legend before becoming one is something Cyffa Leyenda has accomplished for a decade now. Cyffa's been in the game for 11-12 years. At 3 years old the Virginia-Native was adopted into a wealthy strict household. Many rules many expectations No support. Straight out of High School Cyffa Leyenda signed with Alisha "M'Jestie" Brooks (Song Writer of RIHANNA Pon De Replay & more. After a year and half Cyffa was released off the label because M'Jestie felt he was going to be much bigger. As Cyffa grew his expectations did not go along side his parents in result he was kicked out at 18. In 2015 Cyffa opened up for Rah Digga at Shakas Live bringing an enormous amount of energy through-out the crowd. Later on that year Cyffa performed at S.O.B's "Where Legends Are Made" in Manhattan, New York City. This was paid trip, paid luxury hotel, food provided and Backstage access free from the founder of the LiveWire Ent. This was Cyffa's first time in NYC and lived it like a star. 2018 Cyffa had hit single ran 150k streams on soundcloud and not to mention opening up for Megan Thee Stallion. Cyffa drew 100k people on his Instagram the day of the show. Cyffa was able to meet Megan, took a pic and connected with her manager. 2019 Cyffa was a dancer in one of TEK's featured music video. Today Cyffa has released his new single "Fineto" with Dela Wesst "500k on Tik Tok" (Prod. YoungFrenchy808 & Its64boy) Distributed by Empire and has many more celebrities on board with his future mission.
He went from sleeping inside a Recording Studio to Working on Justin Bieber's song purpose. Meet Gemini Muziq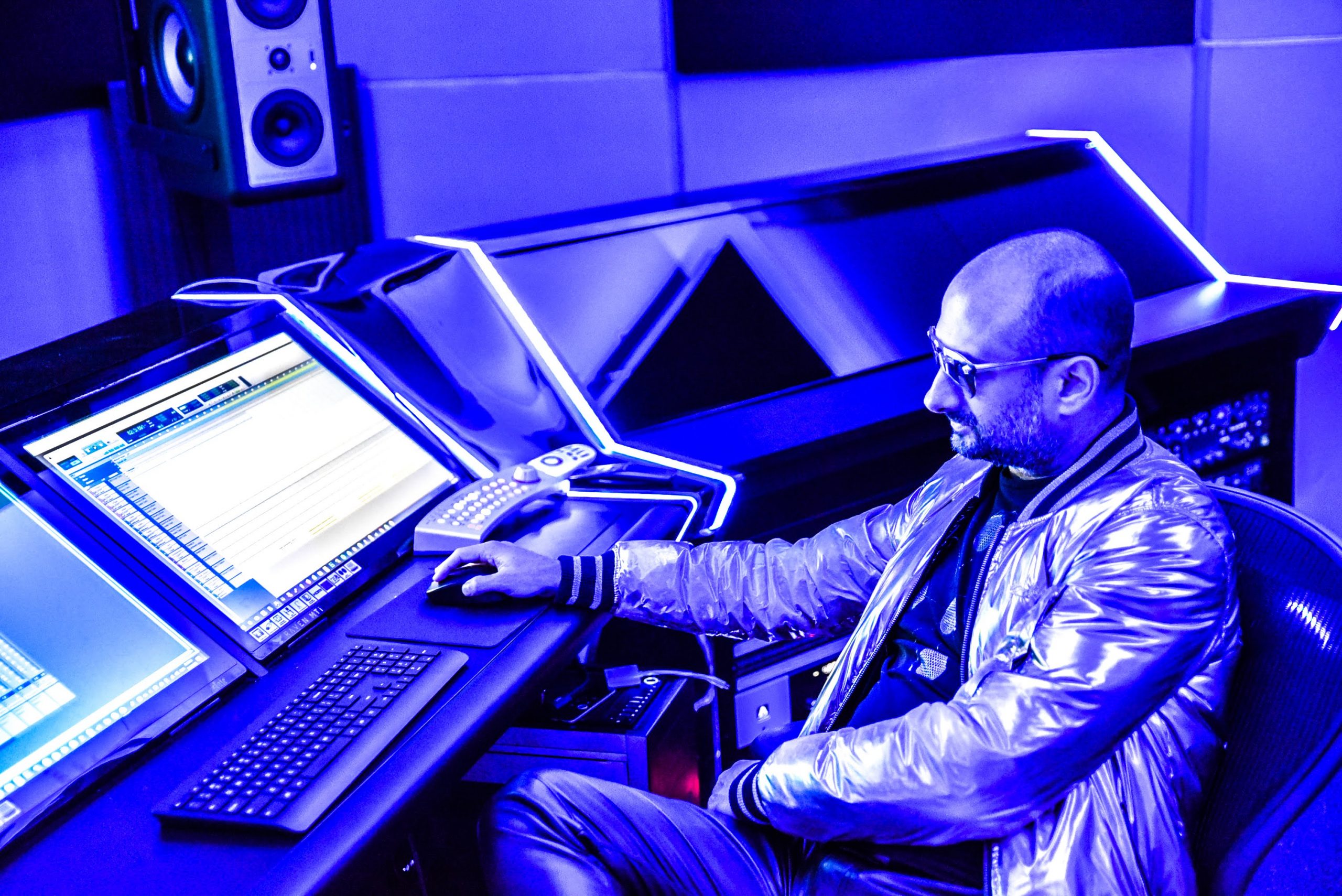 Hagay Mizrahi, also known by his stage name Gemini Muziq is an American-Israeli songwriter, musician and record producer. When Hagay was six-years-old, his father's work relocated his family to Taiwan, where they stayed until he was ten. This early exposure to travel and culture set him up for a fascinating life exploring the globe through his own career. He studied piano as a young child and continued this until he enrolled in the military at age 18. 
Upon being dispatched from the army, Hagay enrolled in the Rimon School of Music, where he studied composition and arrangement. During these years, young Hagay traveled to Kingston, Jamaica, where he was first introduced to life as a music producer. During his time in Jamaica, Hagay worked with Ras Daniel, Bob Marley's percussionist Skully, and Shaggy's drummer Paul Kastic.
He collaborated with Dean Fraser and Yossi Fine and worked with some of Israel's top artists after graduating. These were exciting acts to work with, but there was even more success on the horizon.
A defining moment in Hagay's career
The Israeli producer says the defining moment in his career came while working in Pacifique Studios in North Hollywood. During this time, Hagay recorded with many incredible and influential artists such as Christina Aguilera, Lil Wayne and, most notably to him, producer and songwriter Poo Bear. 
Hagay and Poo Bear worked on several songs together, but the most memorable moment came when the two were working on a piano riff in the studio. Hagay didn't know which artist they were writing for, but he knew it sounded good. That session finished late, and the next day at the studio, Poo Bear told him Justin Bieber loves this song and wanted to use it on his next album. That track ended up being the title song for an album that sold four times platinum, and that evening Hagay knew that he'd been in the right place at the right time.
A producer's process
Hagay believes that properly producing a song takes time, patience and a willingness to take a break. He notes that if he can't trust his ears after three or four hours of work, it's important to go away and come back the next day with a "fresh set of ears." He says that a song should take at least four passes or days before it's ready to go. Everything needs to sit just right in the mix and should sound good on any sound system.
Hagay Mizrahi has overcome many obstacles in his lifetime, from clients falling out with investors and leaving him stranded to having to pay back debts and loans he had taken out in Israel. He believes that a willingness to work hard and invest time into his craft is what got him this far, which certainly shows. Hagay has already worked with Justin Beiber, Mario Barret, Common Kings and Christina Millian. It's exciting to imagine which incredible artists he plans to team up with next.
Anna Stark works as in a PR team named as MyPRSolutions. She is passionate and dedicated to providing her audience with great and helpful content. They always love to listen to her and she mostly does PR for brands and celebrities between their audiences.
After Founding CoCalm, MC David J Is Going To Take It At The Heights Of Success
Most of the music lovers think that making space in the music industry is simple and easy for everyone. However, the fact is opposite for all the people since the music industry only welcomes those who are not just music lovers but talented too. They must be dedicated and determined to work on different niches at a time. We all know that there are different forms of music as well as rap and hip hop are the two famous forms.
Similarly, music creators work on these two forms because of the popularity and fun. Yes, majority of the people love to hear these tracks. In the below lines, we are talking about Mc David J, who has made his space in the music world in these two forms. Get more songs of the star on YouTube.
About Mc David J
Do you know that Mc David J is a founder of CoCalm Entertainment? Not only this, the upcoming Hip Hop star is going to set out to master all areas of music. David is a rapper too and he is working on the wonderful hip-hop tunes. Learn more about your favorite star in the below lines. The famous Hip Hop artist resides in Georgia, Atlanta who is using different musical instruments such as drum machine, drums, guitar, piano and trumpet. In the music world, he is a famous producer and he loves to create original music. David creates lo-fi and likes to put his fans at convenience.
David started music in the age of 9 and in this age of 25 years, he is a famous music creator who is working on hip hop and rap forms of music. Moreover, he has founded CoCalm Entertainment, his music company where he is trying it to take at the heights of success. Therefore, he is struggling hard these days. Learn more about your favorite star on Deezer.
About his life
His grandparents and father play guitar and were musicians. David has taken love for music and new tones creation in heritance. He started music with guitar and there he used to play different music software like pro tools, garage band, Reason as well as music instruments like drums, piano, trumpet and others.
People love to enjoy his music because it comes in low-fi but it is full of energy and enthusiasm. As per David, he wants that people can understand the theme of his music. You can get all his songs and tracks on Spotify.
Upcoming projects
David is going to release on March 5th, 2021, an incredible album named Go Mad. You can get this album on Spotify and Apple Music for Pre-save. As a music producer, he has released high-quality music and tones. Moreover, he has developed CoCalm that is an app that displays the different talents like photographer, models, artists and others. This is the app that is easily available on both android and apple and it is famous with the name of the CoCalm Entertainment. Due to the massive bank of followers, he is available on Instagram.
Anna Stark works as in a PR team named as MyPRSolutions. She is passionate and dedicated to providing her audience with great and helpful content. They always love to listen to her and she mostly does PR for brands and celebrities between their audiences.
Rising HipHop/R&B Artist Kris Flair Just Might Be The Next Big Thing
Growing Up
Upcoming HipHop/R&B Artist Kris Flair has been making a name for himself in the midwest since 2018. Born & Raised in Dayton, Ohio Flair started making music young at the age of 15. He began performing at 17 years old selling out his own shows locally. He has used music as a way to escape from real life while having to grow up & take care of his chronically ill mother while having no contact with his father who battles an alcohol addiction. He found the perfect way to deal with his problems, something he will never regret. Flair has strived very much over the years & perfected his craft as a artist. As his fanbase continues to grow his music is very much anticipated.
New Single Out Now
On January 21, 2021, Flair Released his brand new single entitled "V12". This song had very deep meanings including his real life struggles with depression, and also revealing some of the sacrifices he had to take to get where he is today. Whether it is looking back on lost time with family members, or even his families struggles to be able to come up with the rent, its all included in this song. This Release highlighted a whole new sound for Flair with it being mixed by Popular Artist "A Boogie Wit Da Hoodie's" Engineer "MixedByRican". With his ability to be so versatile with his music it is no doubt that Flair is well within reach of becoming one of the biggest breakout stars of 2021. Check Out His New Single Below.